NEW WORLD BUTCHERS CHALLENGE DATE ANNOUNCED
Following on the postponement of the last challenge due to Covid we are delighted to let you all know the 2022 World Butchers Challenge is now scheduled to be held in Sacramento, California, USA. on 2-3 September 2022.
As you can imagine we are wanting to give our team the best possible chance and we firmly believe we have a team of Butchers who have the skills to go all the way.
To show your support for the team and get involved as a sponsor for the team please contact Chris Jones via email
Be sure to follow their progress over on our social media pages
ABOUT THE TEAM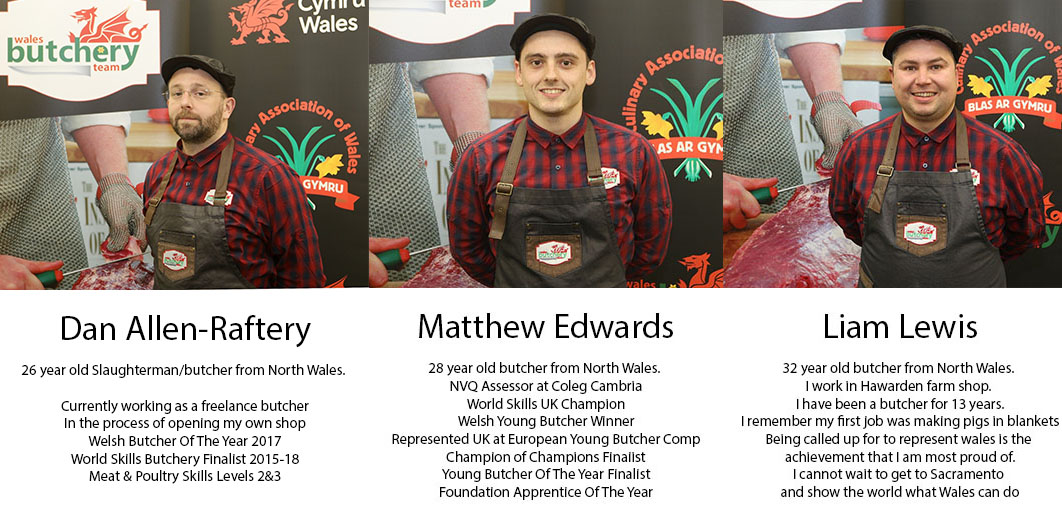 ABOUT CRAFT BUTCHERY TEAM WALES
The idea came from Arwyn Watkins, president of the Culinary Association of Wales, to set up Craft Butchery team Wales.
After looking into the competition he felt it was the perfect platform for some of Wales' top butchers to showcase their skills on the World stage.
"The World Butchers' Challenge has quickly become touted as the one to win. Like any professional, you want to be pushing yourself to get better and this competition offers butchers the chance to pit their skills against the best of the best. We're a young team entering the competition for the first time however, we've been selected based on our performances across competitions here in Wales so there is plenty of experience amongst us. Make no mistake, we're going there to win, just look at the Irish team last year who were first time entrants and ended up winning the title." – Peter Rushforth, Team Captain
About the World Butchers Challenge
The concept of the World Butchers' Challenge is to develop an environment where butchers strive to exceed current industry practice in the areas of general workmanship, meat cutting, displaying and the creative usage of beef, lamb, pork and chicken product. Through this competition, a global community has been cemented with life-long friendships formed, business opportunities unlocked and the overall trade benefiting from an injection of creativity and innovation.
The competition itself is conducted over a three hour and fifteen minute period with competing teams given a side of beef, a side of pork,  a whole lamb and five chickens which they must then transform into a themed display of value-added products.  Teams are allowed to provide their own seasonings, spices, marinades and garnish to finish products that are designed to inspire and push the boundaries, yet which are also cookable and would sell in a retail setting. Independent judges score each team based on technique & skill, workmanship, product innovation, overall finish and presentation.
And don't forget to show your support for the team and get involved as a sponsor for the team please contact Chris Jones via email to show your support