Achievements – The Roll of Honour
The Welsh National Culinary Team raises the profile of culinary expertise and promotes the high quality and versatile Welsh food and drink industry around the globe.
The chefs form the most decorated national team representing Wales, amassing huge number of gold, silver and bronze medals from major international competitions, including the Culinary World Cup in Luxembourg, the Culinary Olympics in Erfurt and the American Culinary Classic in Chicago.
The pinnacle of the team's success to date was winning gold medals in the Culinary World Cup and the Culinary Olympics.
The Junior Welsh National Culinary Team, which was formed in April, 2002, have competed in a number of International Competitions will be competing in the Culinary World Cup in Luxmbourg in November 2022. With the evolution of a talented junior team, all bodes well for the future of culinary skills in Wales, where high quality food tourism is critical to the economic success of Wales.
Working with the Best Natural Ingredients
It's no coincidence that the rising stature of the Welsh National Culinary Team has been matched by Wales' growing reputation for the quality of its food and drink products.
Known for centuries as the land of song, rugby and spectacular scenery, Wales is now firmly established on the world map for its culinary skills, enhanced by the country's wonderful natural ingredients.
A major factor in the Welsh culinary success story has been the high quality raw ingredients available in Wales. The country is blessed with a fantastic array of fish from its fabulous coastline, rivers and lakes, Welsh Lamb and Welsh Beef rank alongside the world's finest meat, Welsh dairy produce, especially speciality cheeses, is in great demand and a wonderful range of produce grows naturally in the spectacular hills and lush, green valleys.
Team Objectives and History
Wales: The name evokes passion and pride, a dragon-fired sense of national identity and, above all, the legendary warmth of Welsh hospitality. Nowhere are these qualities more visible than in the highly successful Welsh National Culinary Team.
Since its formation in 1993, the team has assembled the country's finest exponents of the culinary arts to promote and compete for Wales at the world's premier gastronomic contests.
Following the fine traditions of other teams proudly displaying the Welsh dragon, the talented chefs have achieved outstanding success, gaining a reputation as one of the world's top 10 international culinary teams.
The Welsh National Culinary Team is a proud champion for Wales. Not only does it promote the very best in Welsh food and drink, but also it acts as a passionate ambassador for its people, its language, its culture and its heritage.
The team has often cooked for Royalty, heads of state, senior politicians and celebrities and as far afield as Japan and the USA.
The team was very proud to count on, The former Prince of Wales as its very supportive and enthusiastic patron.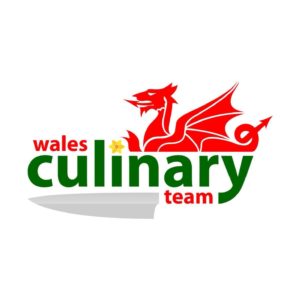 Junior Welsh Culinary Team