Wales chefs complete Culinary Olympics with silver and bronze medals
Wales chefs complete Culinary Olympics with silver and bronze medals
February 19, 2020
The Culinary Association of Wales has completed its IKA Culinary Olympics campaign in Germany with one silver and two bronze medals.
The Senior Culinary Team Wales claimed the second bronze medal for the country in the Restaurant of Nations competition, which saw the talented chefs cook a three-course menu for 110 diners.
The team's menu included a starter of halibut, prawn, ravioli, textures of peas, asparagus and wild garlic and Carmarthen ham. Main course was marmalade glazed duck breast, confit leg bon bon, skin granola, root vegetable terrine, carrot puree and port jus. Dessert was rhubarb, apple, white chocolate, stem ginger and pistachio.
Earlier in the competition in Stuttgart, the Junior Culinary Team Wales, which has an average age of 19, won a silver medal in the Restaurant of Nations competition and a bronze medal in the chefs table edible buffet, a new addition to the Culinary Olympics.
The senior team, which included four chefs making their international debut for Wales, made a disappointing start to their challenge by being awarded a certificate of merit in the chefs table edible buffet.
Arwyn Watkins, OBE, Culinary Association of Wales president, said: "It was a very challenging start to the competition for the senior team who had a very disappointing result in the chefs table. However, the chefs picked themselves up and delivered a good result in the Restaurant of Nations last night.
"I think that Culinary Team Wales returning with a silver medal and two bronze medals from the 2020 Culinary Olympics is a true reflection of where we are in terms of our development programme.
"We now have 30 months until the Culinary World Cup in Luxembourg, so we will take this opportunity to put in place a training and development programme for the squad influenced by the very positive feedback from the last four days of competition.
"The Culinary Association of Wales now moves on to the National Junior and Senior Chef of Wales competition finals at the end of March."
The senior team comprised manager and team member Nick Davies, culinary craft trainer with Cambrian Training, Welshpool, captain Sergio Cinotti from Gemelli and Gem42 Restaurants, Newport, Dylan Wyn Owens, Manchester City Football Club's head chef at the Etihad Stadium, pastry chef Will Richards from Cambrian Training, Matthew Smith, from Star Chef Catering, Newtown, Mark Robertson from Coleg Cambria, Wrexham, Jay Humphris from Coleg y Cymoedd and Zak Pegg from The Harbourmaster Hotel, Aberaeron. Logistics manager was Peter Fuchs, culinary director of The Celtic Collection and ICC Wales, Newport.
The junior team comprises: manager Michael Kirkham-Evans, a lecturer at Gr?p Llandrillo Menai, Rhos-on-Sea, coached Danny Burke, from Olive Tree Catering, Runcorn, captain Calum Smith, The Lion and Pheasant, Shrewsbury, pastry chef Alys Evans, Pobi Bach Bakery, Gilfach Goch, Morgan Read, Brook House Mill, Denbigh, Lara Walker, Celtic Manor Resort, Newport, Alice Yeomans, Belmond Le Manoir aux Quat'Saisons, Great Milton, Oxford James Jarvis, Sebastians Restaurant, Oswestry and Cai Watkins, Cambrian Training.
The Culinary Olympics is biggest and oldest international culinary art exhibition and is held in conjunction with INTERGASTRA, the leading trade fair for hotels and restaurants. It is held every four years, just like the Olympic Games and around 2,000 chefs and pastry chefs from more than 60 nations competed.
Culinary Team Wales is sponsored by the Welsh Government's Food and Drink Wales, Cambrian Training Company, Gr?p Llandrillo Menai, Castell Howell Foods, Hybu Cig Cymru and Harlech Foods.
Members of Junior Culinary Team Wales receive their bronze medals at IKA Culinary Olympics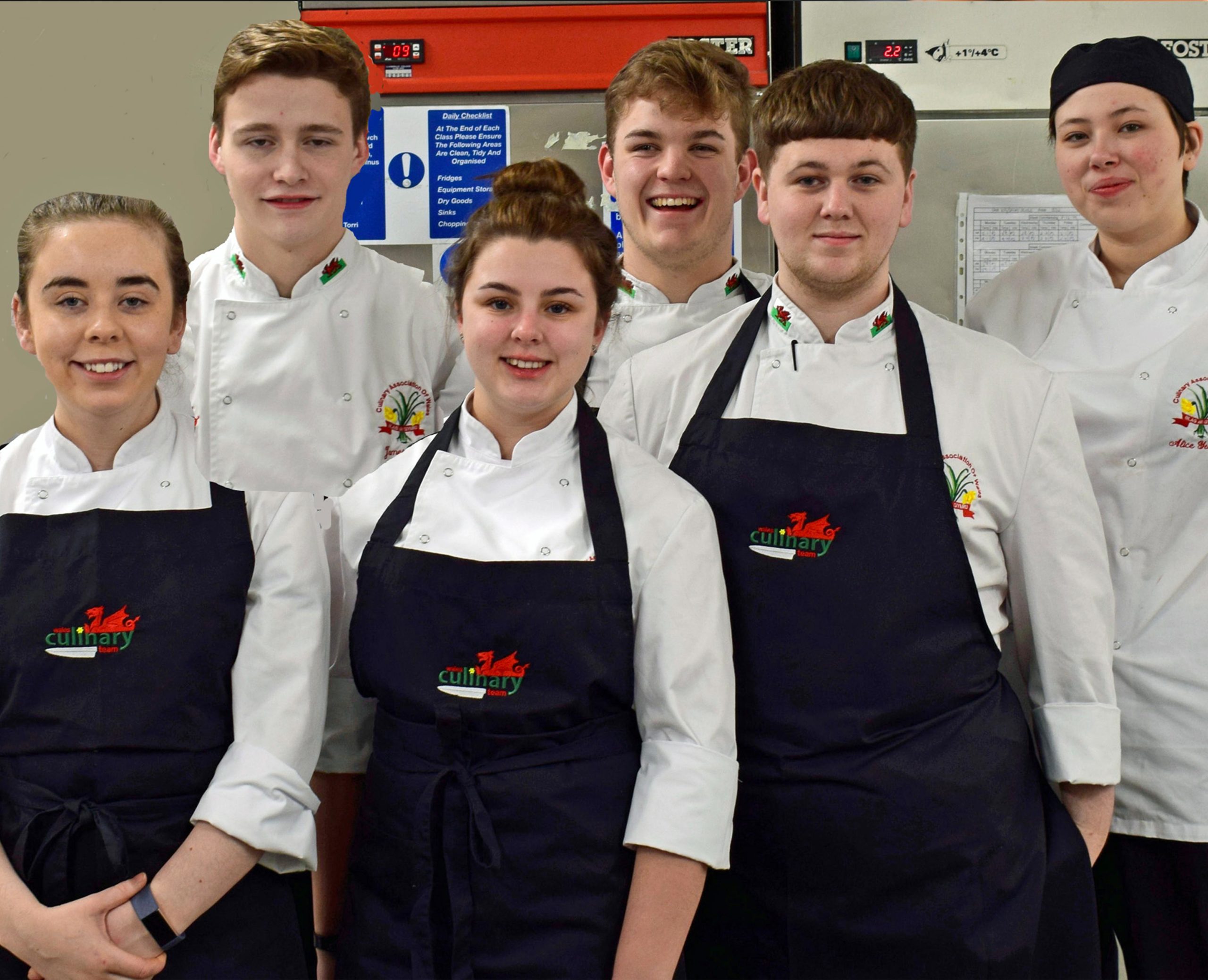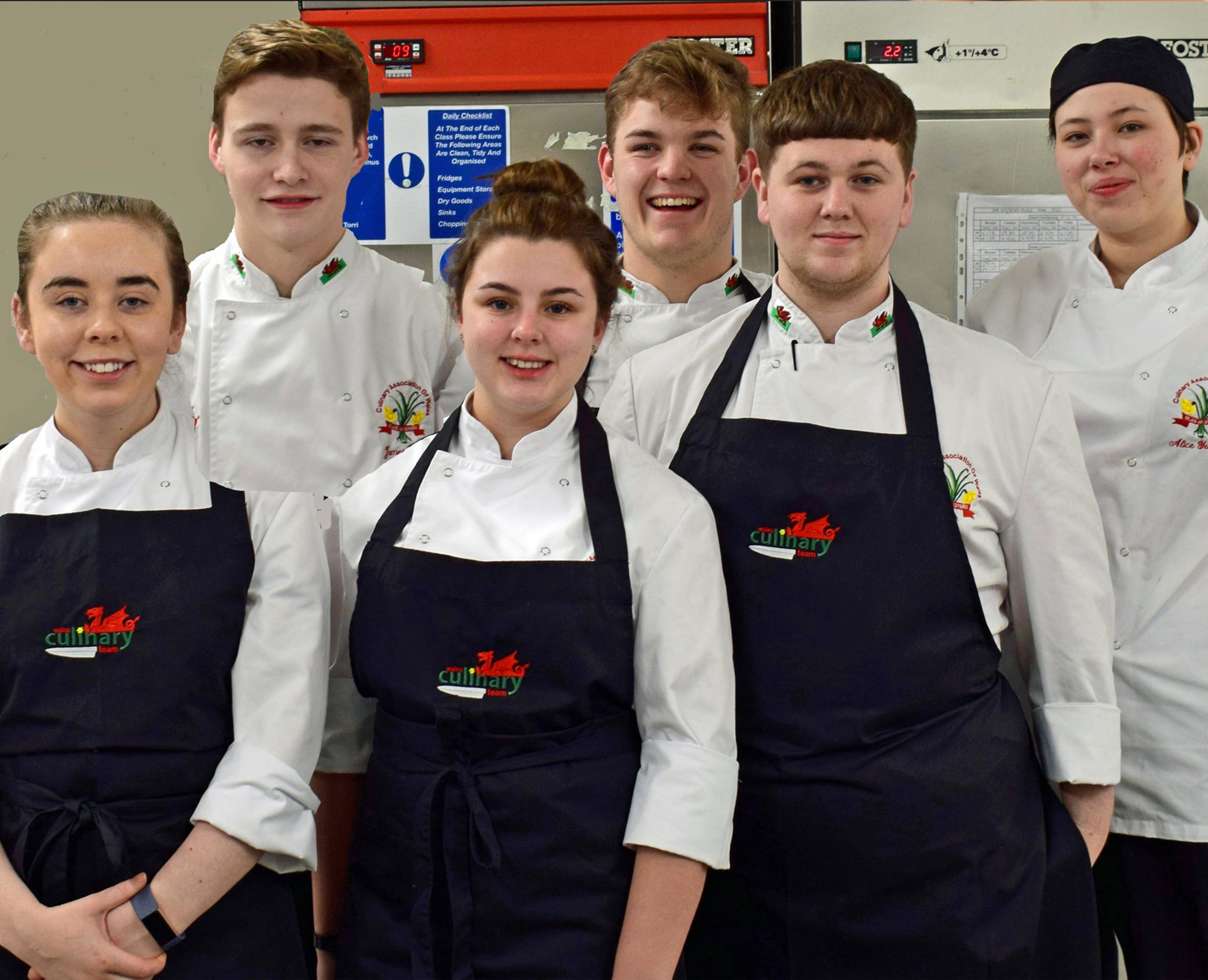 Posted by Vicky Watkins on 19th February 2020